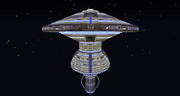 The StarBase was created by Mikfly with help from Aeso and Redshift3d.
This is the Federation Starbase closest to Earth, and though it took a beating, it survived the Nibiru event, and now serves as a hub for personnel and travelers, to and from Nibiru and nearby areas.
Locations
Edit
The Starbase has may locations, from its internal functions to its entertainment areas. These locations consist of:
Spawn
Public Charging Benches
The Server Bank
The Server Shop
The Server Armory
The Transporter Room
Engineering
MFSU bay
Command Center
Starbase Lounge
Holodeck
Shuttle Bay
Computer Lab
Sick Bay (Coming Soon)
Ad blocker interference detected!
Wikia is a free-to-use site that makes money from advertising. We have a modified experience for viewers using ad blockers

Wikia is not accessible if you've made further modifications. Remove the custom ad blocker rule(s) and the page will load as expected.